The Paliotti of Santo Spirito
A lecture by by Margaret Zaho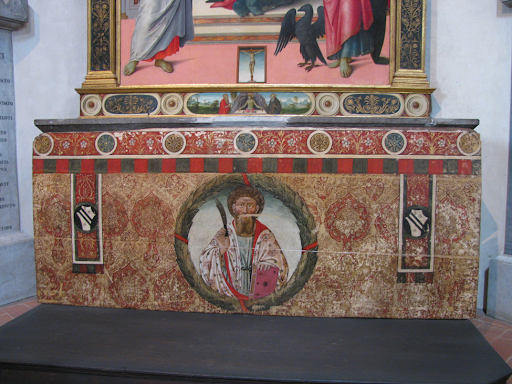 The basilica of Santo Spirito has an impressive and unrivalled collection of painted wooden altar frontals (called paliotti in Italian, or antependiums in English). Many of these paliotti are still situated in the chapels for which they were originally intended. To date, they have been overlooked and understudied, in part because of their medium and because they are often viewed as subsidiary to the elaborate altarpieces situated above them.
Margaret's research explores the function, meaning, and significance of these objects as works of art and examples of Florentine civic pride. No other church in Florence, or in Italy for that matter, has such a significant number of these objects.
If you are in Florence and would like to attend the lecture in person at the British Institute Library, please register here or send an email to bif@britishinstitute.it
The registration fee is 10 Euro per person. All participants are invited to wear a mask throughout the event.
To join this lecture online, simply click on this link to register and receive the Zoom meeting invitation: https://us02web.zoom.us/meeting/register/tZErceigqDMuGt014fUJy3Ypu9Sw9QZbg1MZ
The virtual doors will open at 18:00 Italian time on Wednesday 14th June.
A recording of the virtual lecture will be published on our YouTube channel. Clicking on the link above, you authorise the British Institute of Florence to use your image, name and comments.
There is no charge to attend the event on Zoom, but we ask you to consider making a donation to support the Institute and its beautiful library if you wish to attend an event.