A lecture by Elaine Ruffolo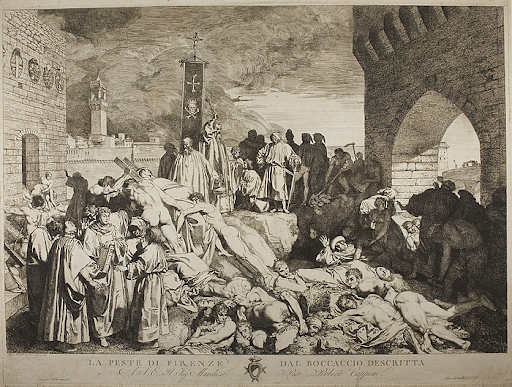 In the late 1340s, a cataclysmic plague shook medieval Europe to its core. The bacterial disease, known to us as the Black Death, swept across the continent, killing up to 50% of the population in less than 10 years—a staggering 75 million dead. Florence,the most advanced community in the medieval world, was one of the worst victims of this disease. . In its wake, the plague left a city that was utterly changed, forever altering the traditional structure of Florentine society and forcing a rethink of every single system of civilization: food production and trade, the Church, political institutions, law, art, and more.
Understanding the Black Death and its aftermath provides a highly revealing window on medieval Florence and the forces that brought about the Renaissance. Elaine Ruffolo traces the story of the Black Death in the Florence and the artistic response to it in the 14th century and beyond.
This lecture is sponsored by Allen and Dinah Loney.
If you are in Florence and would like to attend the lecture in person at the British Institute Library, please register here or send an email to bif@britishinstitute.it
The registration fee is 12 Euro per person.
To join this lecture online, simply click on this link to register and receive the Zoom meeting invitation: https://us02web.zoom.us/meeting/register/tZYsduCrrTsqHdPQjAQiW6FL1iMKvfVHL68I
The virtual doors will open at 18:00 Italian time on Wednesday 20th September.
A recording of the virtual lecture will be published on our YouTube channel. Clicking on the link above, you authorise the British Institute of Florence to use your image, name and comments.
There is no charge to attend the event on Zoom, but we ask you to consider making a donation to support the Institute and its beautiful library if you wish to attend an event.