The Bargello from 1880s to the present day.
A lecture by Paola D'Agostino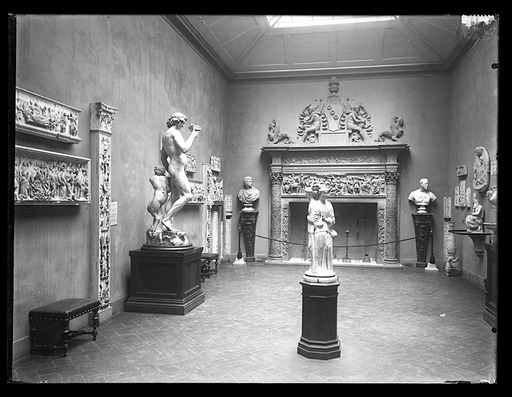 Paola D'Agostino, Director Musei del Bargello
The Bargello, one of the most distinctive Medieval buildings in Florence, is home to many of the most renowned masterpieces of Italian sculpture, such as Donatello's David and Michelangelo's Bacchus. It is also the oldest National Museum in Italy.
Paola D'Agostino, Director Musei del Bargello, will discuss the magnificent rooms of this astonishing medieval palazzo and how they have changed over time. Masterpieces by Arnolfo di Cambio, Donatello, Michelangelo, Bernini and the rest, have "lived" in different rooms at different times - and a review of these changes tells us a lot about the different approaches to studying and viewing sculpture from the late nineteenth century to the present day.
Paola D'Agostino did her postgraduate studies in London at UCL and The Courtauld, before building a career in the USA, first at the Yale University Art Gallery and the Metropolitan Museum of Art in New York. She was appointed Director of the BArgello in 2015.
If you are in Florence and would like to attend the lecture in person at the British Institute Library, please register here or send an email to bif@britishinstitute.it
The registration fee is 12 Euro per person.
To join this lecture online, simply click on this link to register and receive the Zoom meeting invitation: https://us02web.zoom.us/meeting/register/tZwsc-2ppz0qHtEd93If4qRn4qhiisMZchMg
The virtual doors will open at 18:00 Italian time on Wednesday 11th October.
A recording of the virtual lecture will be published on our YouTube channel. Clicking on the link above, you authorise the British Institute of Florence to use your image, name and comments.
There is no charge to attend the event on Zoom, but we ask you to consider making a donation to support the Institute and its beautiful library if you wish to attend an event.
Many thanks to Sylvia Cox for her Silver Sponsorship of this lecture