Rosalba Carriera: "First Painter of Europe"
A lecture by Angela Oberer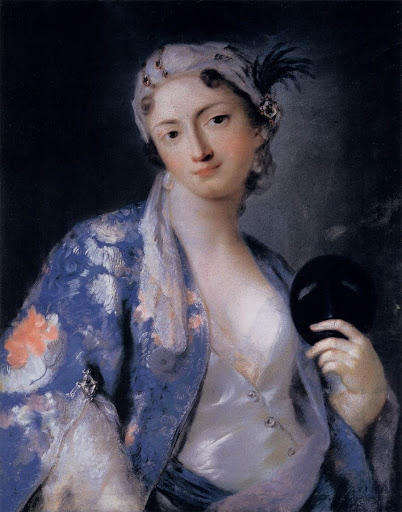 Rosalba Carriera (1673-1757) whose 350th birthday we celebrate this year was immensely famous during her lifetime. Everywhere hymns were sung in praise of her skill and her personality, often in lofty and impassioned language: 'Not without due cause is Signora Rosalba valued as an ornament of Italy, and Europe's foremost female artist', 'the glory of her sex', 'the most talented female artist of our century.'
This talk will focus on how Carriera developed her career so successfully. How did she organize her own workshop and run her business? Which external and internal factors helped her achieve success? How did she manage not only to enter the male-dominated official art scene of Venetian painters but to surpass most of them?
Finally, what do her self-portraits reveal in terms of self-enactment and perhaps her autobiographical and professional turning points?
In short, how can we explain her unique success in the history of female painters?
Angela Oberer received her doctoral degree at the Freie Universität in Berlin , and for the last 20 years, has taught art history at various American study abroad programs in Florence . In 2020 her "The Life and Work of Rosalba Carriera (1673-1757) - The Queen of Pastel" was published. A shorter, richly illustrated version of this book is being published by Lund Humphries this year to celebrate the 350th anniversary of Carriera´s birth within the series "Illuminating Women Artists".
If you are in Florence and would like to attend the lecture in person at the British Institute Library, please register here or send an email to bif@britishinstitute.it
The registration fee is 10 Euro per person. All participants are invited to wear a mask throughout the event.
To join this lecture with Zoom (no reservation necessary), simply click on this link: https://us02web.zoom.us/j/88279712706?pwd=UlZ5QXZrYW9YaytQdWFWcjNKQW5ZUT09 at 18:00 on Wednesday 15th March.
A recording of the virtual lecture will be published on our YouTube channel. Clicking on the link above, you authorise the British Institute of Florence to use your image, name and comments.

There is no charge to attend the event on Zoom, but we ask you to consider making a donation to support the Institute and its beautiful library if you wish to attend an event.
This lecture is sponsored by Calliope Arts, an organisation dedicated to expanding public knowledge of art, literature and social history from a female perspective.