Pre-Raphaelite 'Sisterhood' in the villas of Bellosguardo
A lecture by Francesca Baldry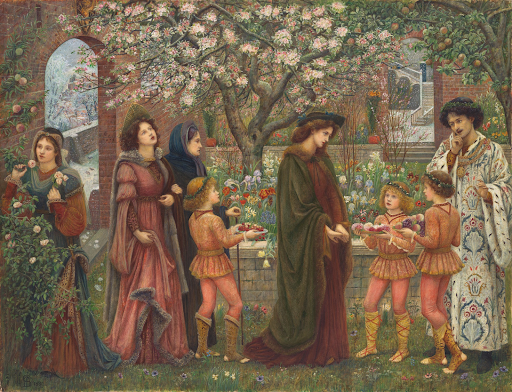 Elizabeth Boott, whose alter ego Henry James captured in Portrait of a Lady, lived in Florence's Villa Castellani at Bellosguardo with her American husband, the painter Frank Duveneck and their pre-Raphaelite friends. Their 50 palace rooms became a salon and school, as Duveneck, on Boott's advice, came to Florence to hold courses for women – a revolutionary proposal for the time. Model first and painter later, Boott and her experience shines a light on the 'brotherhood's' female perspective, as she and other pre-Raphaelite muses carved their space as painters in their own right – in the rented villas where they lived on the hills of Florence. Mary Spartali Stillman's numerous works – largely inspired by Italianliterature and poetry – illustrate how romanticizing 'the Renaissance' was a marketable genre – and these women's depictions continue to sway perceptions of Florentine culture today. Painter Evelyn De Morgan, also a Bellosguardo aficionado, summed up her artistic journey at the age of 17, in an early diary, "Art is eternal, but life is short… I will make up for it now, I have not a moment to lose." This rebellious suffragette and spiritualist with nothing of the angel of the hearth about her, produced some of the turn of the century's most evocative angel images, while in Florence for half of each year, from 1895 to 1914.
The lecture will shed light on the role of these interesting characters and their network, observing how their silent presence in Florence, in the second half of the Nineteenth century, shaped the image of contemporary Florence.
This lecture by art historian Francesca Baldry Collection Manager at Villa La Pietra NYU Florence, is part of the 'Palace Women: Oltrarno and Beyond' programme organised by the British Institute of Florence, Il Palmerino Cultural Association and Calliope Arts.
If you are in Florence and would like to attend the lecture in person at the British Institute Library, please register here or send an email to bif@britishinstitute.it
The registration fee is 12 Euro per person. All participants are invited to wear a mask throughout the event.
To join this lecture online, simply click on this link to register and receive the Zoom meeting invitation: https://us02web.zoom.us/meeting/register/tZUode2gqDosE9cd2icYYq_Tdoe8GfvxDwzz
The virtual doors will open at 18:00 Italian time on Wednesday 29th November.
A recording of the virtual lecture will be published on our YouTube channel. Clicking on the link above, you authorise the British Institute of Florence to use your image, name and comments.
There is no charge to attend the event on Zoom, but we ask you to consider making a donation to support the Institute and its beautiful library if you wish to attend an event.
Special thanks to donors Alice Vogler, Donna Malin, Margie MacKinnon and Wayne McArdle.
This project is made possible thanks to the support of Enjoy, Respect and Feel Florence, funded by Italy's Ministry of Tourism, the Fund for Development and Cohesion, the Municipality of Florence and Feel Florence.