A lecture by Alan Pascuzzi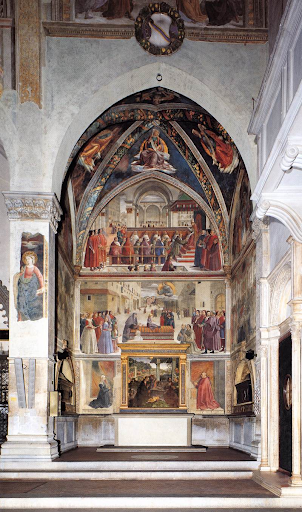 Alan Pascuzzi, the Florence based artists specialising in the techniques of the Reìnaissance masters, returns with a new lecture: How They Were Seen
All the paintings and sculptures in the museums in Florence were once in a church or palazzo which allowed the public or commissioners to interact with them on a spiritual level or as objects of beauty with significance to the family. The paintings in the Uffizi or the sculptures in the Bargello are viewed in a museum context and cannot now be viewed in their original placement. This talk presents reconstructions of important paintings such as Cimabue's Maestà and Donatello's David in their original settings to recreate the way they were viewed in the Renaissance and reveal a new understanding of the works.
If you are in Florence and would like to attend the lecture in person at the British Institute Library, please register here or send an email to bif@britishinstitute.it
The registration fee is 10 Euro per person. All participants are invited to wear a mask throughout the event.
To join this lecture with Zoom (no reservation necessary), simply click on this link: https://us02web.zoom.us/j/83431197300?pwd=a2FwMGlFTmRWRGNaRjZOblduVGhiUT09 at 18:00 on Wednesday 29th March.
A recording of the virtual lecture will be published on our YouTube channel. Clicking on the link above, you authorise the British Institute of Florence to use your image, name and comments.

There is no charge to attend the event on Zoom, but we ask you to consider making a donation to support the Institute and its beautiful library if you wish to attend an event.