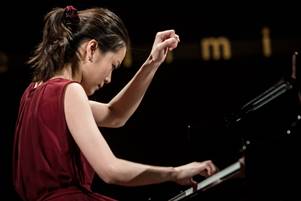 A Young Steinway Artist, the delightful young Malaysian pianist Hao Zi is currently based in the UK. She has given solo and chamber music performances in venues such as Wigmore Hall, Royal Festival Hall at Southbank Centre, Steinway Hall London, St. Martin-in-the-Fields, Salle Cortot (France), Dewan Filharmonik Petronas (Malaysia) and Teatro Quirino (Italy), and performed with the Royal Liverpool Philharmonic..

For her performance at the British Institute she will play Mozart, Schumann, Ravel and Chopin.
PROGRAMME:
Wolfgang Amadeus Mozart: Piano Sonata No. 15 in F major, K. 533/494 (18mins)
Robert Schumann: Kinderszenen Op. 15 (18mins)
Maurice Ravel: Une barque sur l'océan (7mins)
Frédéric Chopin: Ballade No. 4 Op. 52 in F minor (12mins)
In partnership with Keyboard Trust London
If you would like to attend the concert at the British Institute Library, please register here or write an email to bif@britishinstitute.it

All participants are invited to wear a mask throughout the event.
This is an in person-only event.
Music al British is generously supported by Jill and Mike Carpenter